The concept of Isadora came from the Blue Raven's mad, quiet genius.  He wanted to honor my Moldavian gypsy heritage by creating a signature traveling wagon.   He has spent devoted hours designing, mostly along the way, and executing his concepts.  The first winter of planning was spent chalking out the dimensions on the floor of our garage, standing inside the lines, reaching side to side, imagining and enacting reading, sleeping and eating in the space.  Then came the questions of how it could be used.  We knew it had to feature reclaimed history that could encompass a lifestyle, so we let the design developed beautifully into itself.  The Vardo is our home for the journey.  Kitchen off the back, sleeping conversion, and even a petite folding "necessary".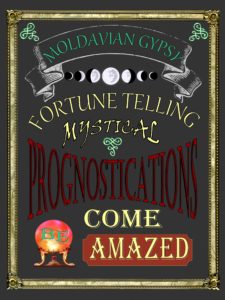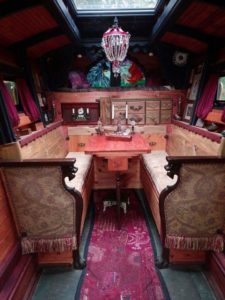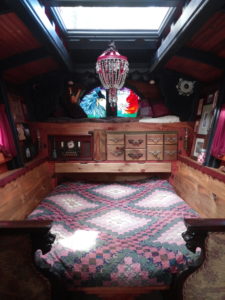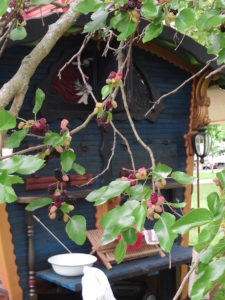 It all began with a two horse trailer that was so ravaged by the elements that  he could tear most of it away by hand.  Then came the base extensions and braking system, followed by the framing and filling.  Even during the deepest snows of the winter he worked until his fingers were stiff with cold and couldn't hold another screw.  Winter gave way to Spring and still he worked.  Nearly 4,000 hours of work have been given to completion.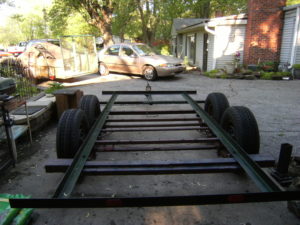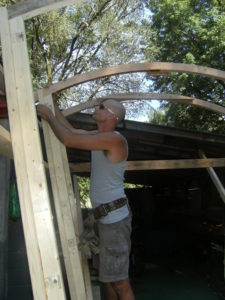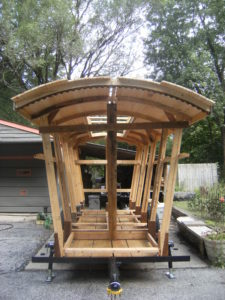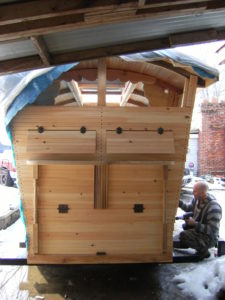 Space became our main nemesis. We are at 13 ft x 5 ft on the base.  That is a mere 65 sq. ft of living and storage space.  He was single mindedly driven to manipulate every inch of this wagon into some function. The door is one which he hand-crafted in the Dutch style and then added layering and inlaid designs. The sunflower on its outside is actually an iridology photo of my eye, tucked behind a de-consecrated Catholic holy water fount.  The mollicroft is lined with garnet red stained glass and when the sun hits it this is our gift.  Then thru the door comes this!  We are forever finding hidden pleasures with which Isadora graces us.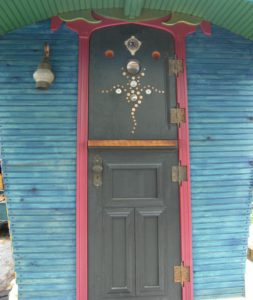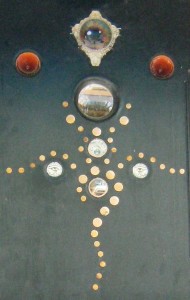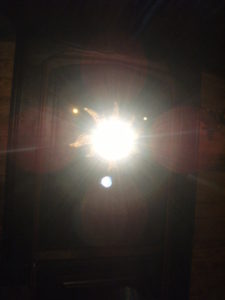 The stained glass was designed in conjunction with, and commissioned from, Dianna Kitzinger.  It is based on our insignia of the Sea Witch and then joined to the Blue Raven.  Her work is spectacular!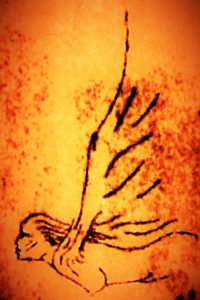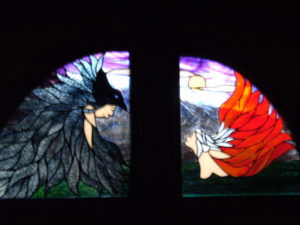 The lions heads were purchased as parts salvaged off a settle from the Indiana Historic Society and date back approximately 280 yrs. The spindles ~ from a late 1800's building. Tile ~ from a discontinuing vintage tile company near San Diego. Lanterns ~ from an 1800's Paris a Lyon et a la Mediterranee railway car. The light shown in the above photos was given to us by a friend.  I turned it upside down and recreated it into a blazing red luminary.  However, we have since repurposed and replaced it.  We've been given an 1800's Spanish chandelier by a niece who thought it so ugly she couldn't bear it in her house.  So I embellished it, let it drip with red crystals and now it is brilliant!  Because it is so intricate photos simply don't pick up on its beauty.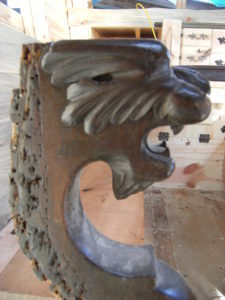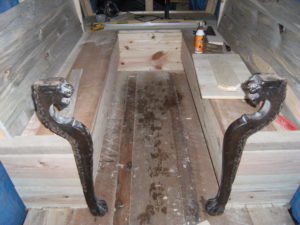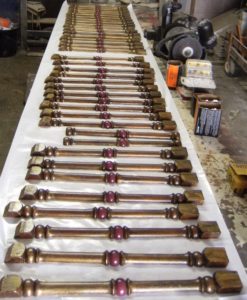 There is always an element of danger to his design and he accomplished this within the wiring.  Blade switches for the 120 volts quivering thru her belly! And of course no home is complete without a hearth.  This beauty was salvaged from an old barn that was to be torn down.  He refabricated the pieces that has disintegrated, created copper heat shields and worked back and forth between wood burning and propane.  Efficacy mated with nostalgia and wood burning won the day!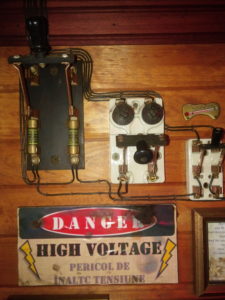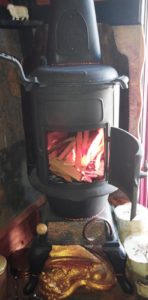 The pillows, floor runner and billows of silk, will be layered in later and came from a world excentric friend of mine and her travels through the Middle East, Southeast Asia, Portugal and Morocco. The other decorative pieces come with history of their own, which remain their secrets.
There is much more to do, from the wood crafted embellishments for the front, more staining, and of course more painting.  He continues to do forged iron work, adding to the design,  and every day I am enchanted anew!
Here are some of our videos from early on.  We were honestly and deliriously excited about being electrified!